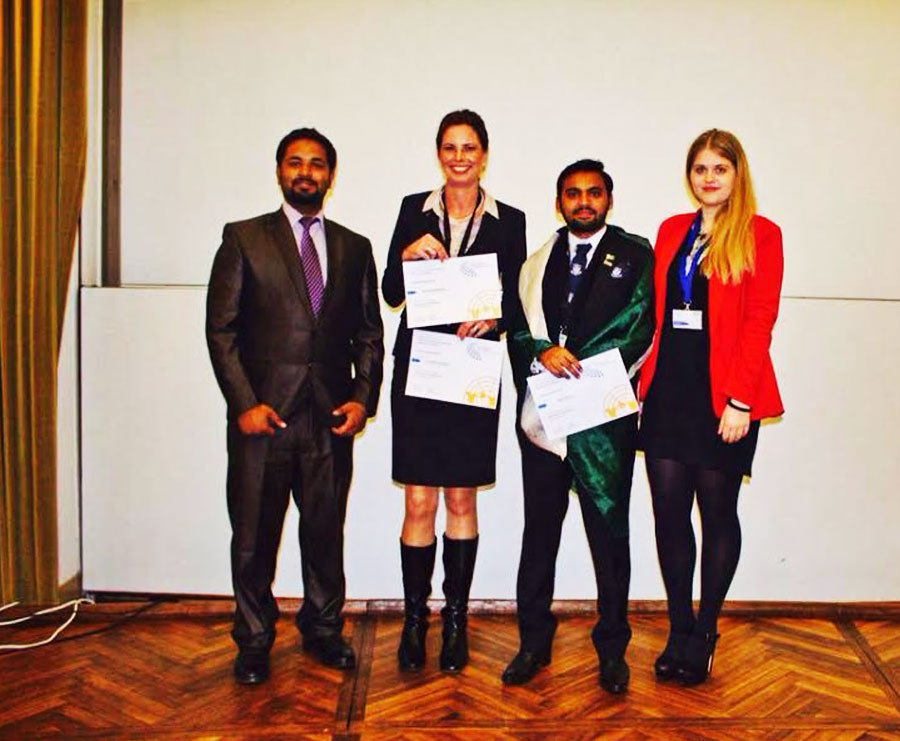 LAHORE – A student Uzair Khan of Forman Christian College (A Chartered University) from the Centre for Public Policy and Governance has won an international award at a recently held Model United Nations conference in Munster, Germany.
Uzair Khan, who is actively pursuing his MPhil degree in Public Policy and Governance and also a former 'Roll of Honor' in FCC debates, was representing the institute in the UN Women Committee in Germany.
Model United Nations (MUN) is a prestigious 'International Model United Nations Conference', which organised its 10thedition from March 30th to April 3rd at the University of Munster in Munster, Germany. The conference entitled with the theme 'Change Today, Shape Tomorrow'. MUIMUN is one of the biggest conferences in Europe which simulates United Nations committees to discuss about the issues that world is facing in today's contemporary world. More than 300 delegates all over the world, representing different countries, attended the conference. The committees included United Nations Security Council, UN Human Rights Council and UN Women.
Uzair Khan was assigned the committee for a challenging topic, 'Strengthening the rights of Female Children' and the committee had to come up with a draft resolution to address the issue. During the course of debate proceedings, human trafficking, child prostitution, female children abortion, pre-birth sex selection and other issues were discussed.
While expounding on the theme, Uzair Khan brought forward the point of empowering mother in one of his speeches, which was welcomed and deeply appreciated by other member states in the committee. He argued, "Investing in mothers is investing in future, if mothers are empowered their female children are empowered who are the real future, in this way we can achieve the motto of MUIMUN which is Change Today, Shape Tomorrow". Uzair Khan competed with various other delegates from other countries in America, Europe, Middle East and Asia. After intensive and competitive rounds of moderation, diplomacy and consensus building, Uzair Khan was able to rally forth his role as the German delegate and won the prestigious award for his efforts in Pakistan.
He won the award for his negotiation skills, eloquence in public speaking and persuasive leadership role in the committee. The MUIMUN UN Women Committee Chair Caroline Huber remarked on Uzair Khan's performance, 'I was amazed at the consistent leadership role of a Pakistani delegate serving as a German representative in UN Women MUIMUN. His stance matching the real grounds of German foreign policy made it easy for us to decide the award going to Uzair Khan' from Pakistan.
This is the first time in the history of Forman Christian College (FCC) that an enrolled FCC masters' level student has bagged an international prestigious award at Model United Nations Conference.
Source: http://dailytimes.com.pk/pakistan/27-Apr-16/fccs-uzair-khan-bags-mun-award-in-germany